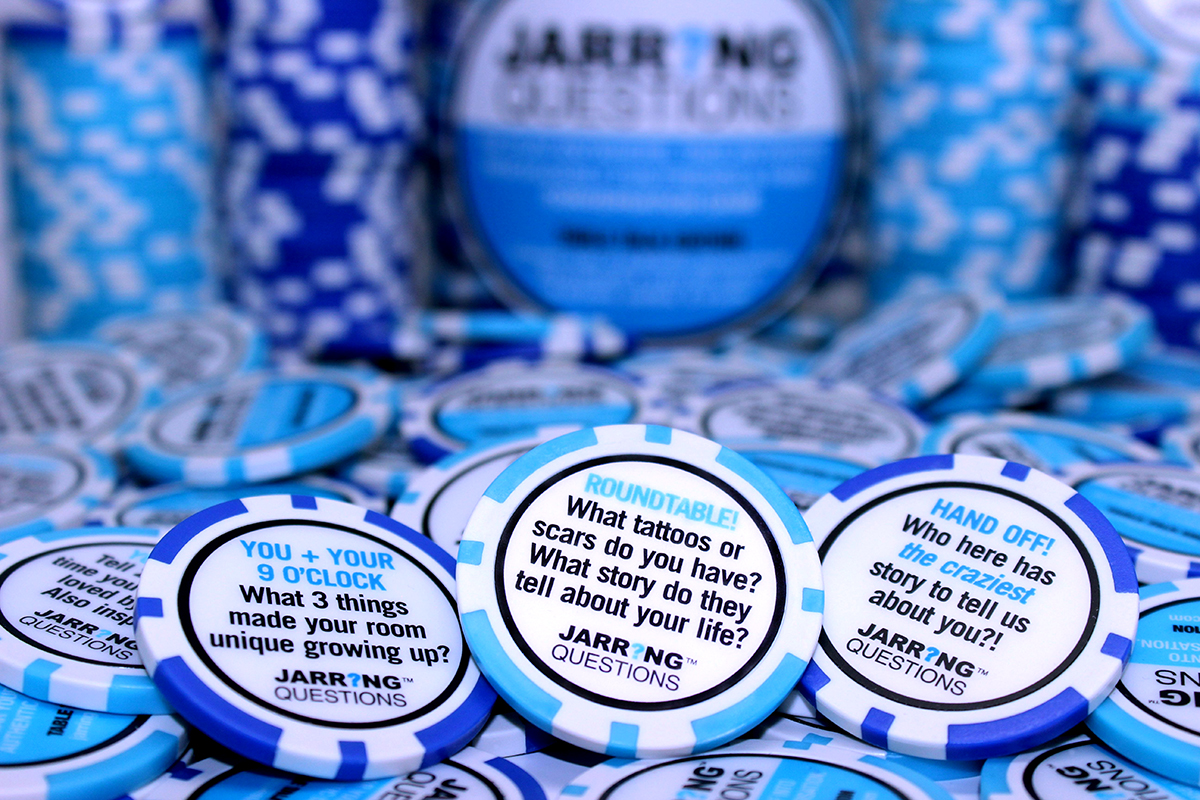 Our Table Talk Edition
The Play Anywhere, Take Anywhere Conversation Game for all Ages
Our Jarring Questions® Table Talk Edition is a fun and outrageous way to ignite authentic conversation at dinners, parties, holiday meals, and hosted events.
Table Talk can be played with people of all ages as questions focus on the story of your life – from family traditions to what it was like growing up. We've also upped the ante on participation, with new categories designed to get everyone talking!
What's in the Jar
Each set of Jarring Questions® comes with 90 conversation starters – 45 dark blue chips pose family-related questions, and 45 light blue chips probe about what your life was like growing up.
How to Play: Decoding the Interactive Instructions!
With Table Talk, we're truly keeping the conversation lively by adding several new conversation categories. When you draw a chip, instructions on the top guide you to answer the question and/or involve others. Here's what we mean:
HOT SEAT - You get to choose who answers the question!
ROUND TABLE – You answer ... but so does everyone else!
YOU + 2 – You answer, then choose 2 others to do the same.
LIE DETECTOR - You get to call out someone you think fibbed or didn't authentically answer one of their Jarring Questions!
YOU + YOUR 3 O'CLOCK – You answer, and then pass the chip to whoever is sitting in your 3 (or 6 or 9) o'clock position. (Think of a clock dial and look for those sitting in these spots across from you.)
FREE ROLL! – You choose 2 people and make up your OWN Jarring Question for them to answer!
HAND OFF – You choose someone at the table to answer the question and tell a story ... about YOU!
BY SHOW OF HANDS – As you ask the question, people raise their hands if they can answer in the affirmative
PICK 2 – You choose 2 people and answer the questions about their lives.
Sample Questions
Here are some sample questions from our new Table Talk Edition:
From the Dark Blue Chip "Family History" Collection:
YOU + YOUR 3'OCLOCK: What's your favorite memory of a family vacation?
ROUNDTABLE: What's your favorite holiday family tradition? The weirdest?
HOT SEAT: Did you parents ever catch you making out with someone? Story!
YOU + 2: Who taught you how to drive? What was the hardest to learn?
From the Light Blue Chip "Life Story" Collection:
HOT SEAT: Who do you choose to share a secret about you with us?
ROUNDTABLE: What scars or tattoos do you have and what stories do they tell about your life?
What 3 people here would you: Vacation with? Cook with? Cuddle with? And why?
PICK 1: What's a time the person you picked had your back?